Dan Daly arrived in Coronado for small boat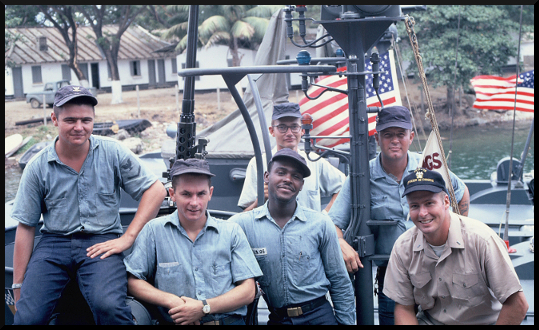 training in January of 1967 at age twenty-three having served approximately eighteen months in the U.S. Navy. He grew up in Boston and graduated from Harvard College. On his first day in Coronado, he was assigned his crew designated 68A. This meant they were halfway through the second round of boat crews having been assigned to Swift Boat duty. Their base of operations was Da Nang, Vietnam as well as sub bases at Chu Lai and Cua Viet. Soon after they arrived in Vietnam in March of 1967, they were assigned responsibility for PCF 76. During their twelve month deployment, their boat was sunk in heavy weather; members of the crew received four purple hearts for service in combat and were awarded many other citations and commendations. Most importantly, all six of the crew members of PCF 76 returned home together.

The author has retained a portfolio of true stories based on his first-hand accounts and has blended them with the experiences of his shipmates to give the reader a personal stake in all aspects of Swift Boat duty.
Dan Daly currently works full-time in Boston and is the founder and owner of several small consulting firms. Currently the majority of his time is focused on consulting and education for boards of directors of public and private companies. These efforts focus on developing seminars, newsletters, white papers and training videos. Dan and his wife live on Cape Cod.